Apprehension. Fear. Uncertainty. Misgivings…
These are a few of the unsettling emotions that the up-coming '68 Comeback Television Special conjured-up in the mind of Elvis Presley in June of 1968. Although the production work had been well underway for some time, June in particular was a dicey time for Elvis and his tender psyche; for it was June that the "live" segments of the special (later referred to as the "stand-up" and "sit-down" shows) would be filmed. This would actually be the VERY FIRST TIME that Elvis would be face to face with a live audience again. Although the celebrated return to live performing on a typical stage with a full band, orchestra and background vocals would come 13 months later in Las Vegas on July 31, 1969 – this first, June 27th performance on a sound stage of the NBC studios in Burbank, California would technically be his first 'live' performance after his long absence while making films in Hollywood. This realization literally shook Elvis to his core.
In an interview for the 1972 MGM film ELVIS ON TOUR, Elvis said, "I've never gotten over what they call stage fright. I go through it every show…"  If that were true then – with hundreds of performance under his belt – just think of how his poor stomach must have been doing somersaults before the this very first performance in June of 1968. The fact that he was ELVIS PRESLEY… Rock and Roll Pioneer, Multiple Gold Record Earning Recording Artist, Successful Movie Star and International Sex Symbol, had no bearing on his genuine, humble demeanor;  he was scared to death.
A million questions raced through his mind…. "Am I really good enough?"  – "Do I still have it?" – "Will I flop?"  – "Will the fans even show up?"   Well it's that last question that prompted Elvis to do something that would actually surprise most people. What can be more terrible for an entertainer than performing to a half empty room…especially when the crowd (or lack thereof) would be seen on a nationally televised network event? It would be even worse if the audience was filled with lackluster, stiff-necked, prim & proper old folks who gave meager, respectful applause after each number. Elvis naturally desired the enthusiastic throng of screaming young girls that he had been know to attract in the 1950's. Not just for his own ego, but for the sake of the success of the upcoming television special. It was critically imperative and he felt his future depended on it – and rightfully so. His first appearance in Las Vegas in the 1950's taught him this valuable lesson. This was years before Las Vegas attracted the younger, more excitable crowds. His core audience at that fateful performance was more like the generation of the parents of his typical fan base; The same generation who had recently protested that this strange new rock and roll music to which they were unaccustomed and ill-prepared to process was the devils music – which could only lead to lewd behavior and juvenile delinquency with the youth of America. Elvis' reception was cold and his first Vegas experience was considered to be a flop. Ironically enough that same generation in large part, later went on to become legitimate, swooning fans right along with the younger counterparts. This is evidenced by the large number of older fans seen in abundance in the audience at countless Vegas, Tahoe and Tour City performances from that point on. (Watch the crowd in THAT'S THE WAY IT IS, ELVIS ON TOUR AND THE CBS-TV SPECIAL for confirmation of this).
But back in June of 1968, after not performing in front of a live audience for almost a decade, Elvis wasn't taking any chances. What a nervous Elvis Presley felt compelled to do shortly before his upcoming live segments were to be taped in front of a live audience was nothing short of pure genius. (Although to him, it was randomly done strictly out of a combination of insecurity and sheer terror).
But first a little background:
The gates of Elvis' Graceland home as well as every home he had in California, had a steady influx of fans who would gather there regularly in hopes to catch a glimpse of their idol. What the fans didn't know was that Elvis loved them just as much as they loved him. He would routinely come out, talk with the fans, sign autographs and pose for photos with them. This was especially true at his homes in Beverly Hills, when the fans became regulars who knew Elvis' film shooting schedule and were ALWAYS there at all hours of the day or night in hopes that Elvis had some time for them.
I created a book and DVD documentary series in the early 2000's based mainly on these fan encounters called ELVIS: BEHIND THE IMAGE. It was subtitled: "You know the Legend. Now meet the man". It was filled with stories and first hand accounts by many fans, including Virginia Coons, Elaine Christian, Carol Jacobs and many more , but mostly from a dear friend of mine, Sandi Miller, who not only photographed Elvis regularly, but kept a detailed journal of every detail of every encounter. Sandi was present at the taping of the NBC- TV Special in 1968 and can be seen on video in the audience. But more importantly, she photographed and documented in her journals Elvis coming back from the taping at Burbank studios DURING the production. Elvis can be seen wearing his costumes home and even commented to her that no one was really supposed to see the costumes until the special, so they were getting a special preview of what was to come.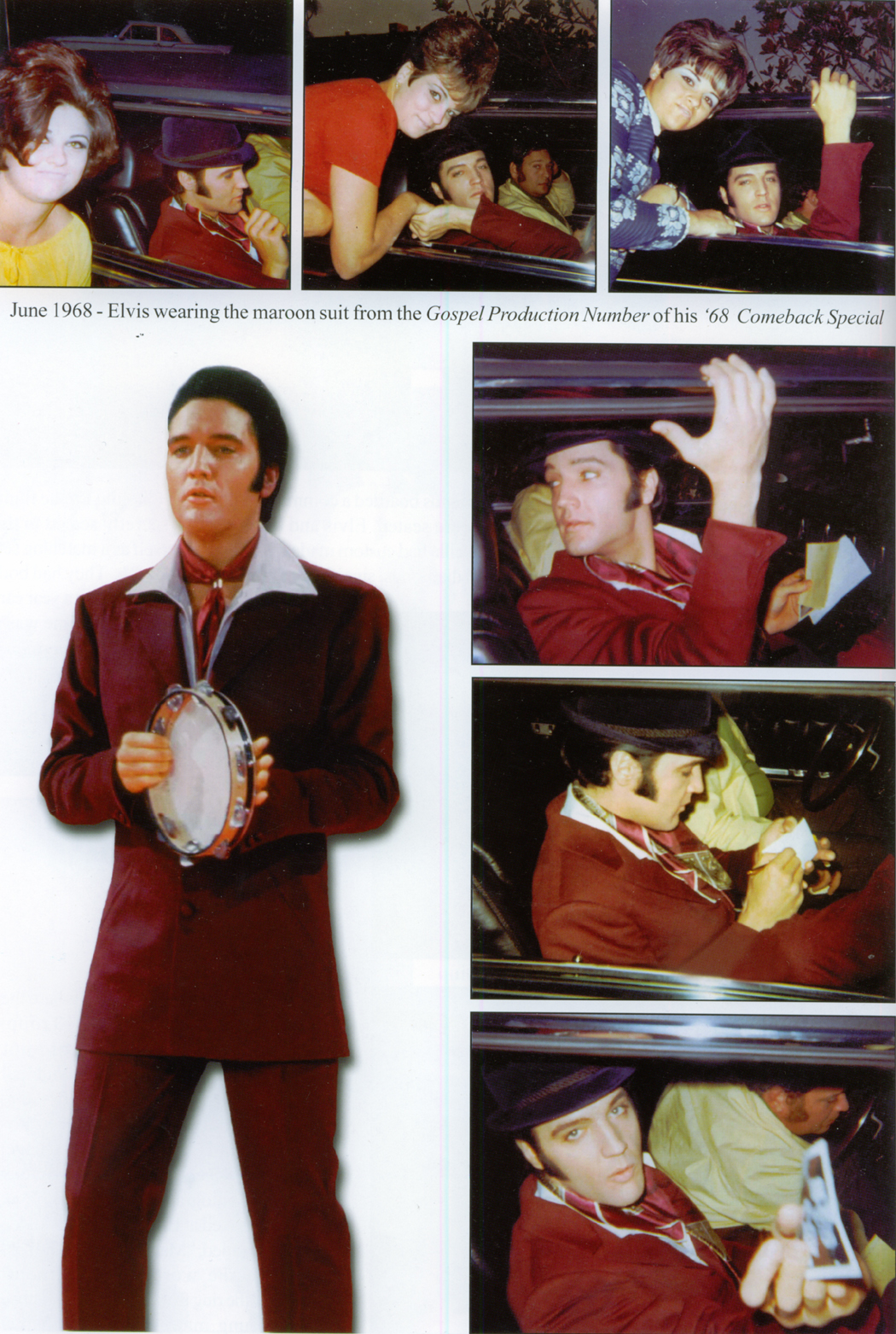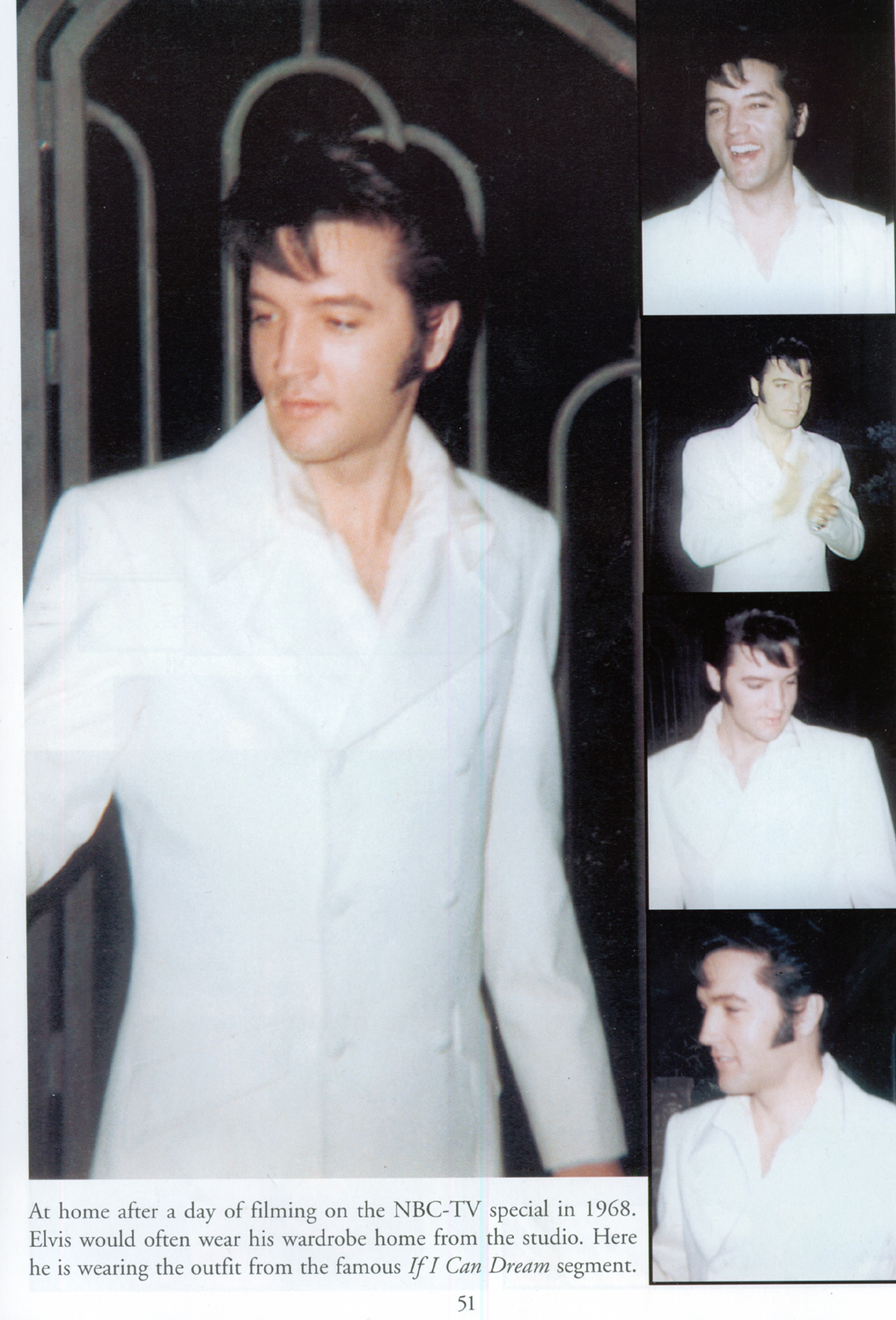 He would occasionally give a few tidbits of information about the work in progress and was always gracious with his time with the fans, after spending many long hours working on the production.  When it came to the portion that they would soon be taping in front of a live audience Elvis nervously asked Sandi, "Do you think people will come?" She laughingly reassured Elvis that he will have absolutely no problem with that, and his fans adored him.
This brings us back full circle to the point of this text:
Elvis had built up such a rapport with many of the fans that he had come to know on a first name basis over the years, that when it came to his fears of performing in front of his FIRST live audience in many years, Elvis knew exactly who he wanted filling those seats. Familiar faces of real fans, many of whom he had come to know over the years, were the perfect lot to occupy many of the seats – and especially to sit around the small, square stage at Elvis' feet as he performed.
It is for this reason – out of his own nervousness and insecurity – that Elvis PERSONALLY gave tickets away to his own performances to his FANS for the taping of the live segments in June of 1968 for the famous '68 Comeback Special. Can you imagine the greatest entertainer the world has ever known personally giving you tickets to his upcoming, history-making performance, and almost pleading with you to come?  Obviously, such drastic measures were never really necessary, but it just goes to show how down to earth Elvis really was. He was human… just like the rest of us – and filled with the same fears and trepidation as any other mortal being. We put him on such a high pedestal that we sometimes forget he was just a man.
When he came out on the stage in that black leather suit, gushing with sexuality, good looks and unequaled charisma – it was clear to see that although he may have been merely a man, he was nothing like any man we had ever seen before, or ever seen since.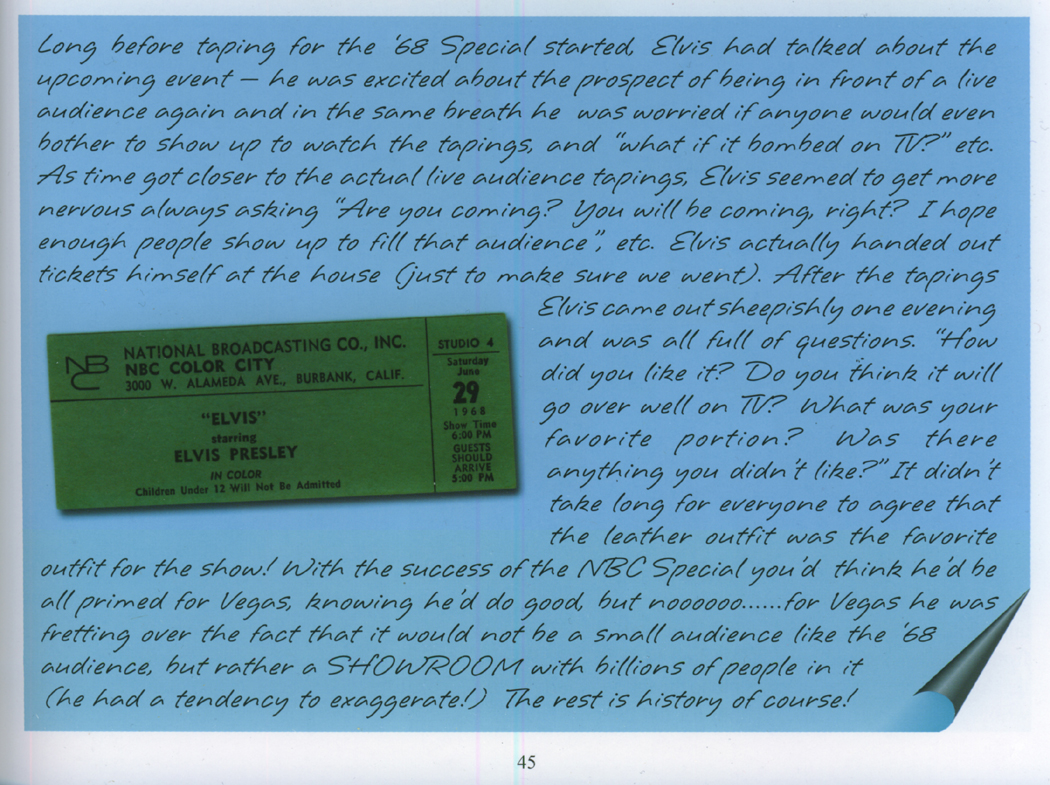 Photos, Illustrations and Sandi Miller's Journal Entries from the books  ELVIS: BEHIND THE IMAGE – Vol. 1 & 2   by Bud Glass
This post provided courtesy of ELVIS RELICS -Your place for authentic Elvis owned, worn and used artifacts. "When Authenticity & Provenance Matters!"  and be sure to join our mailing list to be regularly notified of Elvis artifacts as they come available.
Follow us on Face Book