AUTHENTIC ELVIS ITEMS AVAILABLE
A Sampling of Elvis Presley Artifacts in the Collection*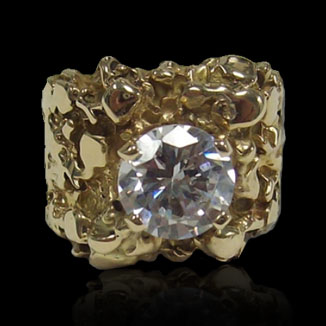 Gold Nugget Diamond Ring
Massive gold nugget ring with large 2.5 carat diamond, worn by Elvis during the famous Las Vegas "Fight Night"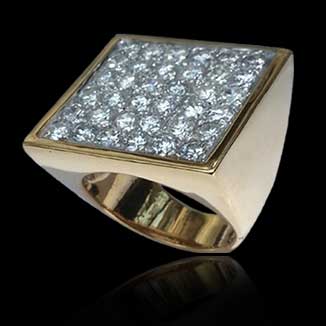 Square 14k Gold Ring
Enormous 14k gold ring, encrusted with 36 diamonds gifted to Elvis by Liberace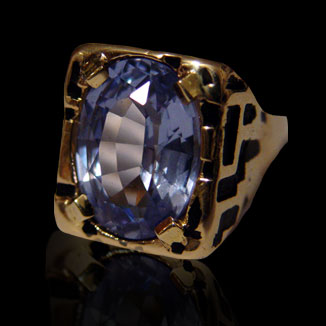 Massive Gold & Topaz Ring
Gold ring with a huge 5 carat blue topaz, worn by Elvis in MGM's 1972 film "Elvis on Tour"
"E" diamond pendant gifted to Elvis by the International Hotel on the signing of his contract for his historic comeback to live performing.
Engraved on the reverse :
ELVIS – INTERNATIONAL HOTEL – APRIL 15, 1969.
Massive 2.5 CT Diamond Ring with an incredible history; Given by Elvis to the head of Security at the Las Vegas Hilton – after three men jumped on stage and attacked Elvis during a performance in 1973.
Gold plated cufflinks given to Elvis by Alabama's State Governor George Wallace. These cufflinks were on display in Jimmy Velvet's world famous Elvis Presley Museum for several years.
Diamond encrusted 14k Gold stage-worn ring with "EP" initials inside.
Diamond encrusted Star of David pendant that Elvis was photographed wearing on stage in 1973. He wore it together with the Christian Cross, and jokingly explained, saying that he "did not want to miss Heaven on a technicality."
Gold Jewish "Chai" pendant with heavy gold chain owned by Elvis.
Jewelry, including Elvis' large stage-worn rings and ornate bracelets and necklaces.
Elvis' personal Bible from 1957, monogrammed on the front in gold leaf.
Elvis' prescription pill bottles.
Personal items from inside Elvis' Graceland home.
Elvis' personal racquetball glove from his private racquetball court at Graceland.
Authentic photographs, including a 1968 signed photograph and a second snapshot showing Elvis signing the the photograph.
Personal clothing items including a jacket that Elvis was photographed wearing in 1969.
Original "Elvis in Concert" tour jacket as seen on the CBS-TV Special in 1977.
Elvis' personal acetate of "Its Easy For You" from the famous Jungle Room Sessions which was his last ever recording sessions.
*Items featured here may not be currently available for purchase. Please
join our exclusive mailing list
to see the artifacts currently available, including prices.