Elvis' manager, Colonel Parker was a mastermind at the art of marketing, and in early 1971 he devised a plan to include a small Swatch of clothing from Elvis's personal wardrobe with every record set of an upcoming release that would be called Elvis Worldwide Gold Award Hits Vol. 2
Personal articles of Elvis's clothing would be collected and box by Elvis's father Vernon Presley and sent to the Colonel's office at MGM in Hollywood – there they would be sorted and placed into shipping trunks and sent to RCA in New York.
In this original memo from his office at MGM dated March 24th 1971 the Colonel outlined strict guidelines for the operation. Trunks containing Elvis's clothing were to contain shirts, pants, ties, scarves and coats.  They were to be shipped air-freight only in lots of at least six trunks at a time and insured for $1,000. per trunk. The memo read in part;  "…this project must be treated in the same way as if we did a tour made a picture or TV show.  It will most likely be the most important project for income this year so let's not be sloppy with it.  I must be able to call for and receive an up-to-date project report on this at all times."  One week later the Colonel signed a contract with RCA that outline the agreement with his company known as All-Star shows RCA agreed to pay $3.50 per sold unit of the first 150,000 LP disc packages- which included all artist royalties a special Elvis Presley picture on a Swatch of Elvis Presley's clothing. RCA agreed to advance payment on the first 100,000 units with the first $75,000 to be paid before June 10th 1971.  The Colonel signed on behalf of Elvis, who was still recovering from his eye infection.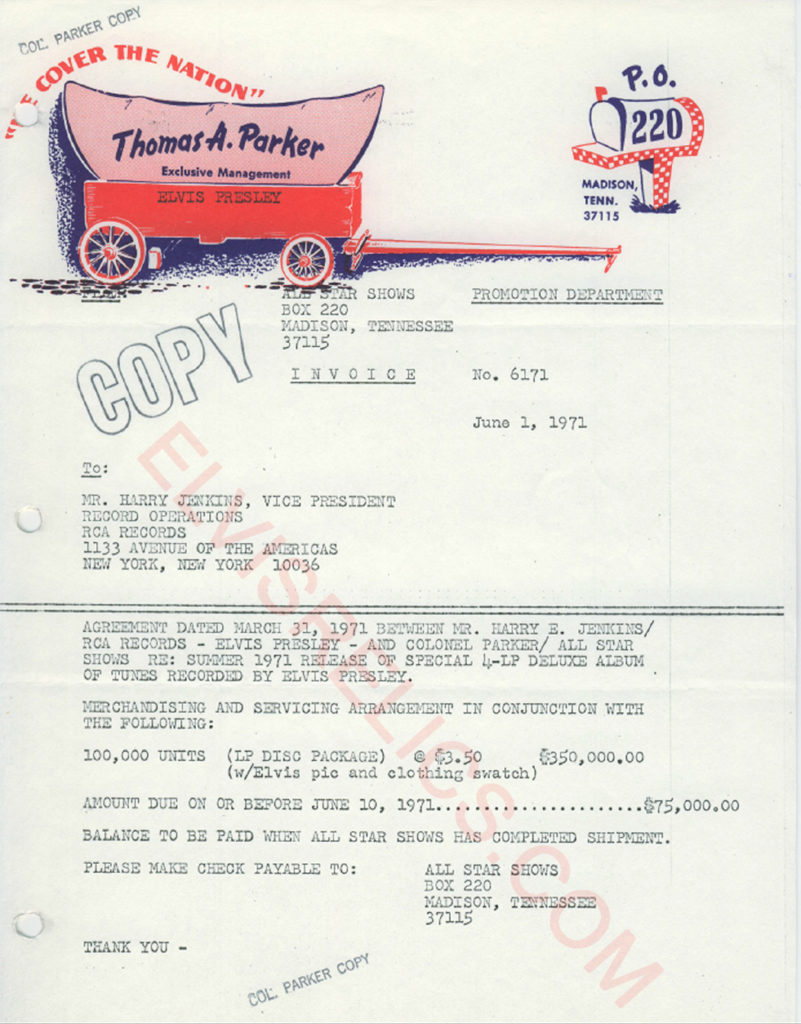 Back in Memphis, boxes of Elvis's clothing that were awaiting shipment were scattered all over the front foyer, living room and dining room at Graceland. About that time Mike McGregor- who is in charge of Elvis's ranch in Mississippi, and his horses at Graceland, happen to come by and walked inside the mansion from the back. He saw the clothing in the boxes everywhere and asked Elvis what he was doing with all those clothes.  Elvis said "RCA wants them they're going to cut them up for a big promotion that they're doing."  Mike said "that's a lot of nice clothes going to waste!" Elvis replied  "…Well hell Mike, go through them and take what you want – they'll never know the difference".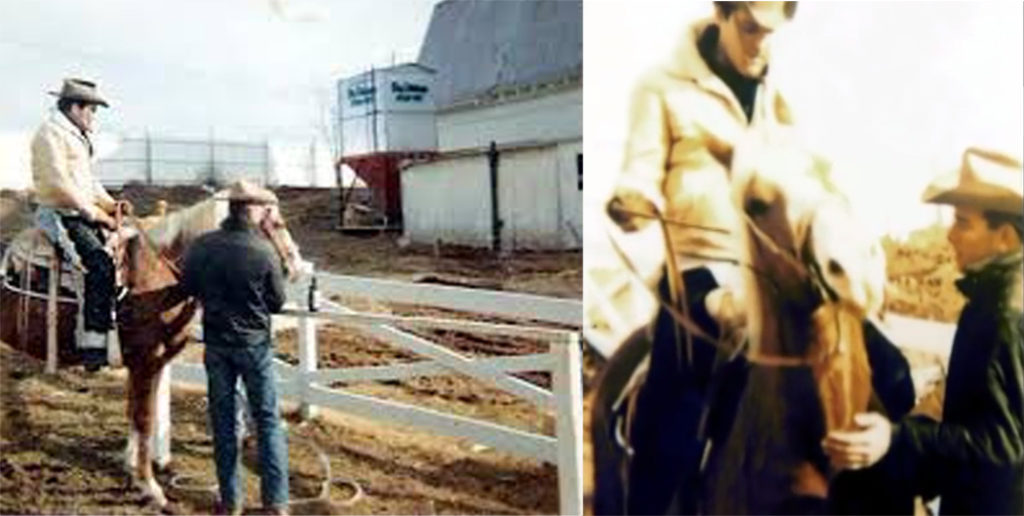 …We will come back to Mike in a moment.
Twenty-five specially-prepared trunks filled with 790 articles of Elvis's clothing arrived at RCA headquarters in New York. The inventory list was an impressive reflection of the fashion styles of Elvis Presley- mainly from the 1960s.   As per the Colonel's instructions, the clothing was cut into 2 x 3 inch swatches.  The swatches were then placed into specially printed window envelopes that read "Something From Elvis's Wardrobe For You"  Also delivered to RCA from Elvis and the Colonel was one trunk containing 12 different outfits (with their compliments) to be used for special prizes for the top sales promotion in regard to this new sales project.  Later three more trunks containing 100 selected items were sent, and the Colonel sent instructions to NOT cut these items up – but to give one item to each distributor to build enthusiasm in the promotion of this big campaign.  According to the Colonel's personal inventory list, this collection of clothing also included three of Elvis's jumpsuits.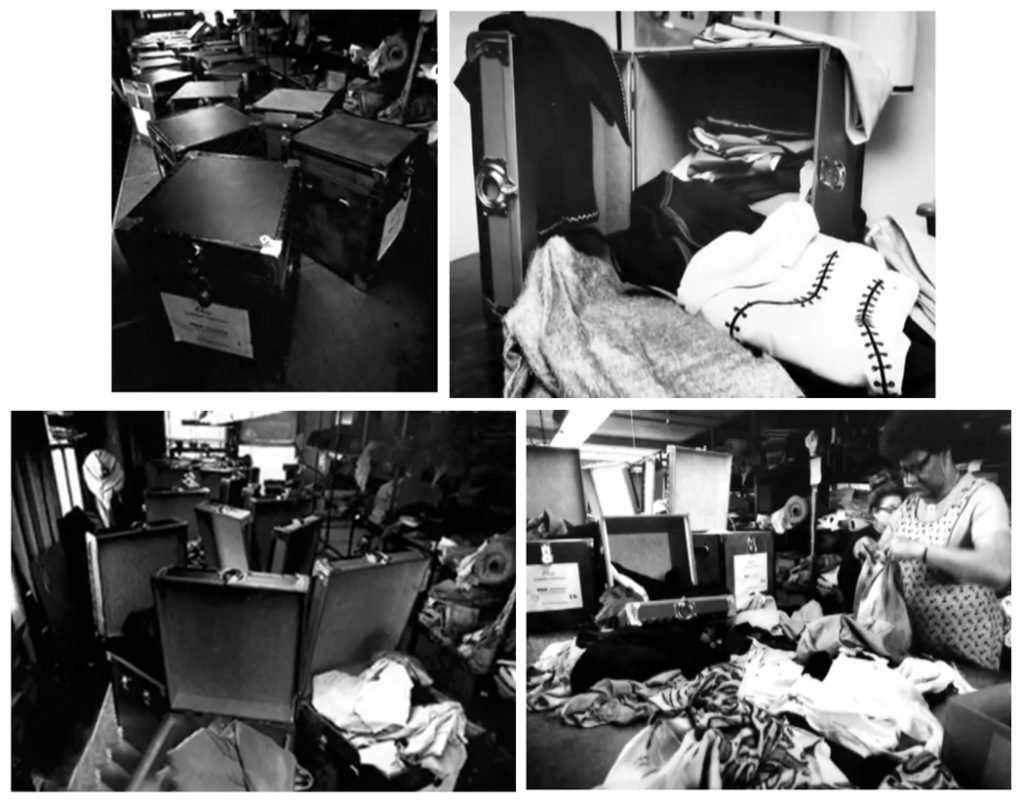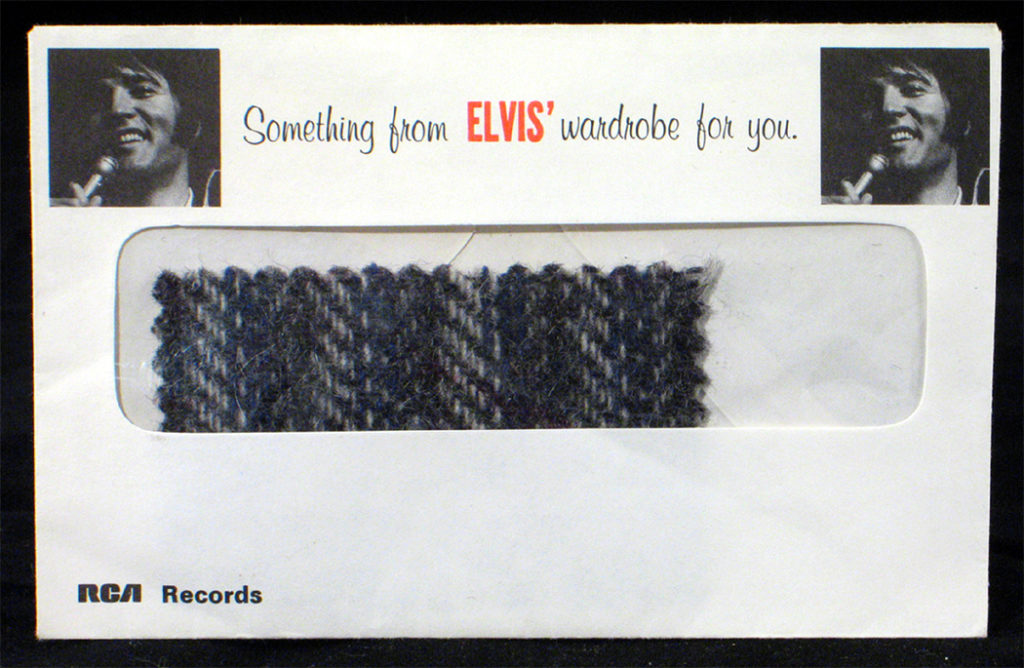 Elvis's new worldwide gold award Hits Volume 2 was a huge success and the fans loved being able to own a small piece of Elvis's actual wardrobe.  Just ten weeks after the contract was signed, the Colonel received his first $75,000 payment from RCA.   After deducting every imaginable expense including the Colonel's office and travel expense, the balance was divided between Elvis and Colonel Parker and a check was sent to Elvis from All Star Shows for his share which came to $18,832.50.   The ingenious marketing plan guaranteed a total payment of over a half million dollars to Elvis to be split 50-50 with Colonel Parker.  After all expenses are paid this deal earned them over $243,000 each and sent the albums were mostly b-sides to previously released singles Elvis never had to lift a finger throughout the entire project.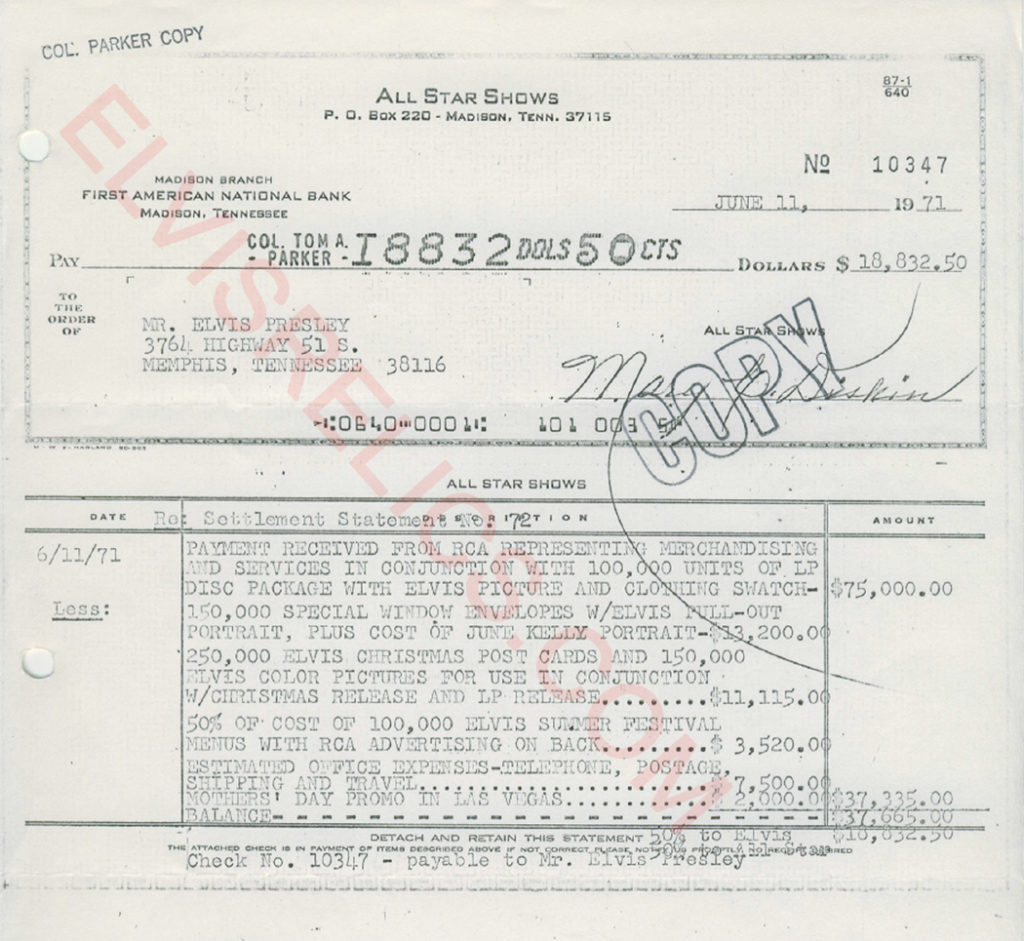 Little did anyone know at the time, but Mike McGregor's  random, chance encounter with Elvis, just as he was going through his wardrobe items at Graceland – would ultimately have a tremendous effect on the preservation of rock and roll history.
Back at Graceland before the clothing was sent off to RCA, at the suggestion of Elvis himself, Mike went through the clothing and picked out several items to which he was personally attracted. Among the items he selected was a white jacket with matching pants;  a maroon colored jacket with matching pants and a black jacket and pants made of leather.  As fate would have it- what Mike McGregor unknowingly saved from the chopping block included the white jacket that Elvis was wearing when he performed IF I CAN DREAM, the maroon jacket Elvis was wearing for the WHERE COULD I GO BUT TO THE LORD/UP ABOVE MY HEAD/SAVED gospel production numbers and the legendary two-piece black leather outfit – all worn by Elvis for his legendary 1968 NBC-TV COMEBACK SPECIAL.  These items are now preserved for the ages for all fans to see on display Elvis's Graceland home.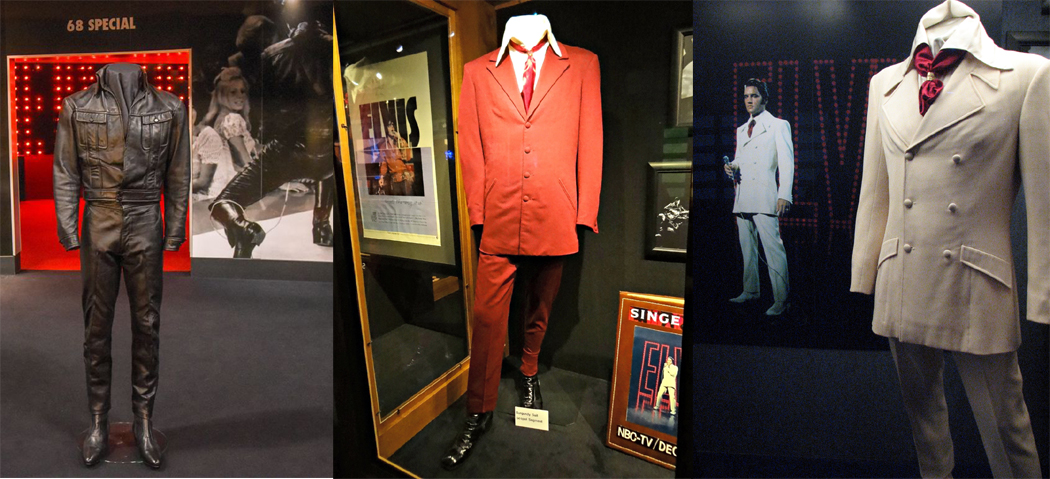 The full, detailed story and many more untold stories from Elvis life and career in 1971 can be seen on the documentary ELVIS: ADRENALINE '71.  Through my meticulous research, I wrote the script for this documentary, as well as the Adrenaline '70, Behind The Image Vol. 1 & 2 and others. To obtain a copy of this full documentary on DVD – that includes rare film footage of Elvis from 1971, please contact me at [email protected]
How Graceland got the IF I CAN DREAM suit back is an interesting story within itself.
In 1978, Mike McGregor was shown a fan magazine that stated Butch Polston was looking for an Elvis suit. Greg called Butch and told him he had a suit that he may sell him. Butch and his lovely wife Kim own the internationally acclaimed B&K Enterprises Costume Company – which custom tailors superb recreations of Elvis' famous stage attire. They became friends with Mike and his wife Barbara, and it was to Butch that Mike FIRST revealed this previously untold story many years ago.
Another collector later obtained the white "IF I CAN DREAM" suit and attempted to sell it back to Graceland in a partial trade that included several of Elvis' signed checks. The deal went south, and the suit was then sold to yet another collector who literally mortgaged his home to obtain it. That collector traded the suit to Graceland in exchange for two jumpsuits from the 1970's. He in turn sold one jumpsuit to different collector in order to get his house out of hock, and kept the other jumpsuit. Graceland was fortunate enough to ultimately get back all three of the major costumes from the legendary '68 Comeback Special. Most people never knew that they were in the hands of Elvis' friend Mike McGregor since he personally received them from Elvis himself in 1971.
…and the rest – as they say- is history.
I am fortunate enough to own the black star Sapphire ring with diamond encrusted arrow design that Elvis wears for the majority of the NBC-TV Special in 1968; also an original script, tickets for the concert that Elvis personally gave out himself to fans in Los Angeles and original advertising pieces from the firm that represented the Singer Special.
It is important to note that, outside of the items that they were fortunate enough to re-acquire, all of the items at Graceland now are items Elvis had in his possession when he died in 1977.  Elvis gave away much more throughout his lifetime than he ever kept. This means there is much more out there in the hands of private collectors than most people realize; that is why museums like our KING'S RANSOM MUSEUM are so important for fans to see, as well as for the continued legacy of Elvis Presley.
Collecting rare Elvis owned, worn and used artifacts if a thrill for any fan.  To actually hold these important pieces of Rock and Roll history in your hands is quite an experience for anyone. To take part in this exciting world of collecting authentic Elvis artifacts, please visit us at Elvis Relics and join the mailing list to receive regular updates as items come available.
FUN FACT:
Did you know that the legendary grand Finale of the famous '68 Comeback NBC-TV Special was based on a song, written specifically for Elvis – born from a recent tragedy in world history?  Martin Luther King had just assassinated in Elvis' home town of Memphis a few months earlier in April of 1968.  This greatly affected Elvis, and he wanted a song to close his show that reflected the Nation's current sense of sorrow and loss, but also give an uplifting, inspirational message.  Walter Earl Brown wrote the song IF I CAN DREAM specifically for Elvis and the TV Special.  The song based on the famous "I HAVE A DREAM" speech given by Dr. King several years prior. A song about a "DREAM of a better land, where all my brothers walk hand in hand…."